FREE Shipping for Orders Over $49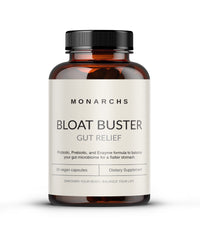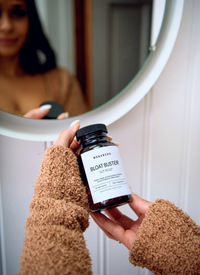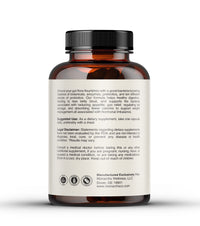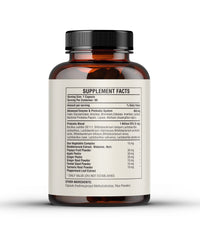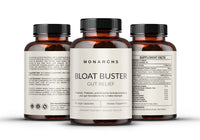 Regular Price

$23.23

Sale Price

$23.23

Regular Price

Unit Price

per
Probiotic, Prebiotic & Enzyme Formula to Balance Your Gut Microbiome for a Flatter Stomach
Introducing Bloat Buster, the all-in-one product that supports a flatter stomach by combining the power of a probiotic, prebiotic, and enzyme formula in one convenient bottle. Are you tired of feeling bloated and uncomfortable after meals? Do you wish you could enjoy your favorite foods without worrying about the aftermath? Bloat Buster is here to help.
Bromelain, Papain, &

 

Lipase
Our carefully crafted formula contains a combination of powerful ingredients, including bromelain, papain, and lipase, which work together to support healthy digestion and break down food more efficiently.
Probiotics 
But that's not all. Bloat Buster also includes a potent probiotic with 1 billion CFU (colony-forming units) to help promote a healthy gut microbiome.

Bladderwrack, Wakame, & Nori
And to top it off, we've added a blend of bladderwrack, wakame, and nori to nourish the probiotics and further support digestive health.

Papaya, Ginger, Fennel, Turmeric, &

 

Peppermint
But we didn't stop there. Bloat Buster also contains a blend of natural digestive aids, including papaya, ginger, fennel, turmeric, and peppermint, which have all been shown to help reduce bloating, gas, and discomfort.

How it Works:
With Bloat Buster, you can say goodbye to the discomfort and frustration of bloating and hello to a flatter, more comfortable stomach. And with all the powerful digestive support packed into one convenient bottle, you won't need to buy multiple supplements to get the results you're looking for. Try Bloat Buster today and start feeling your best after every meal.

Advanced Enzyme & Prebiotic System
Inulia. Glucoamylase, Amylase, Bromelain, Cellulase, Invertase, Lactase, Bacterial Protease, Papain, Lipase, Maltase (Aspergillus niger).
Probiotic Blend
1 Billion CFU (5 mg)
Bocillus subtilis DE111, Bifidobacterium lonqum, Lactobacillus
acidophilus, Lactobacterium rhamnosus.Bifidobacterium animalis
lactis, Bifidobacterium bifidum, Bifidobocterium breve,
Lactobacillus casei, Lactobacillus salivarius, Lactobacillus plantarum.
Sea Vegetable Complex
Bladderwrack Extract, Wakeme, Nori.
Papaya Fruit Powder
Apple Pectin
Ginger Pectin
Ginger Root Powder
Fennel Seed Powder
Turmeric Root Powder
Pepperment Leaf Extract

OTHER INGREDIENTS:
Capsule (Hydroxypropyl Methylcellulose, Rice Powder)
Take one capsule daily, preferably with a meal.
Bloat Buster
The Monarchs Bloat Buster has been a true staple in my life. I love how it works instantly. Anytime I'm feeling bloated I drink my bloat buster and I feel relief immediately. I also tend to feel gassy sometimes but with the bloat buster the discomfort goes away. I ABSOLUTELY SWEAR BY THIS PRODUCT!
🙌🏼🙌🏼
RELIEF IN A BEAUTIFUL BOTTLE
Bloat Buster gave me back relief
Is it me, or does this make me fart instantly and I feel so much better??
Legit
It works, removes gas and uncomfort minutes after taking.